An important lesson for all beginners
To succeed in business of any kind, including affiliate marketing and network marketing, one of the keys to success is to be
pro-active...
to learn to find the
know-how
you need, and to discern what's
useful
and
valuable
— and what's
not.
That takes
time
,
effort
and
discipline
. It takes a very clear and compelling personal
vision
of what you want to achieve and create, to sustain you through all the setbacks, the obstacles, the failures and the discouragements that
will
come your way. Count on it.
One of the traps that new people fall into all the time is what I call "Baby Bird Syndrome"... they think it's enough to simply sit on their backsides, safe in their nests, open their mouths and squawk for what they want. They think that, if they squawk loudly enough and often enough, whatever they need or want will be delivered to them without effort.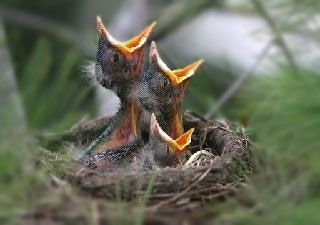 Or, in the immortal words of the great philosopher, Confucion:
"Person who sit crossed-legged, with mouth open, waiting for roast duck to fly in, can expect v-e-r-y long wait."
This is the Internet. All the know-how in the world is available to you, much of it free.
But you have to do the work to find and evaluate it. It won't come to you.
What
will
come to you, relentlessly and unsought, are
spam
and
endless, hype-riddled sales pitches
.
Finding
reliable mentors
is another key to success. But they have to know what they're doing to be successful — and to be willing and able to help YOU become successful.
But, even then,
YOU need to do the finding.
Here's a revealing incident that I recount in my FREE online book,
"Don't Go Into Small Business Until You Read This Book!"
A young business reporter found himself seated on a plane next to one of America's most successful businessmen. He recognised the man immediately and was very excited at the prospect of scoring an interview with him. Alas, the businessman made it clear he was only interested in catching up on some much-needed sleep.
But our young reporter friend was determined, so he leaned over and, after introducing himself, said "Excuse me, Mr ——————, I don't like to disturb you, but I'd really appreciate knowing the secret of your success. Can you tell it to me in a nutshell, please?"
Without opening his eyes, the businessman replied "Two words...
make decisions!".
The young reporter mulled these words over and over in his mind. Finally, unable to decipher the mystery, he disturbed his companion again.
"Sorry to bother you, but something troubles me. How on earth do you know how to make the right decisions?"
The reply was immediate.
"One word...
experience!"
Once again, the youngster turned the idea over in his mind until he could no longer resist one final question.
"I'm sorry, sir, but you have me intrigued. How do you gain the experience needed to make those right decisions?"
The reply?
"Two words...
wrong decisions!"
You'll find other FREE resources to help you make the right decisions at
http://profitclinic.com.au
and
http://REALnetworkmarketing.com
.
Good luck!
John Counsel